Wholesale
Schools, organizations, booksellers, or retailers interested in purchasing books or games in bulk, qualify for a heavy discount.
Making social and emotional intelligence development an integral part of the educational process is part of Smile Inside's mission. Barriers like cost and excessive training make it inaccessible for many organizations. This offer is available so as many young people as possible can benefit from it.
"Feel" in the Blanks – Set of 10 Decks
$66.00
"Feel" in the Blanks® can be purchased in lots of 10 for 40% off.
You can choose all green, all blue, or half green and half blue decks.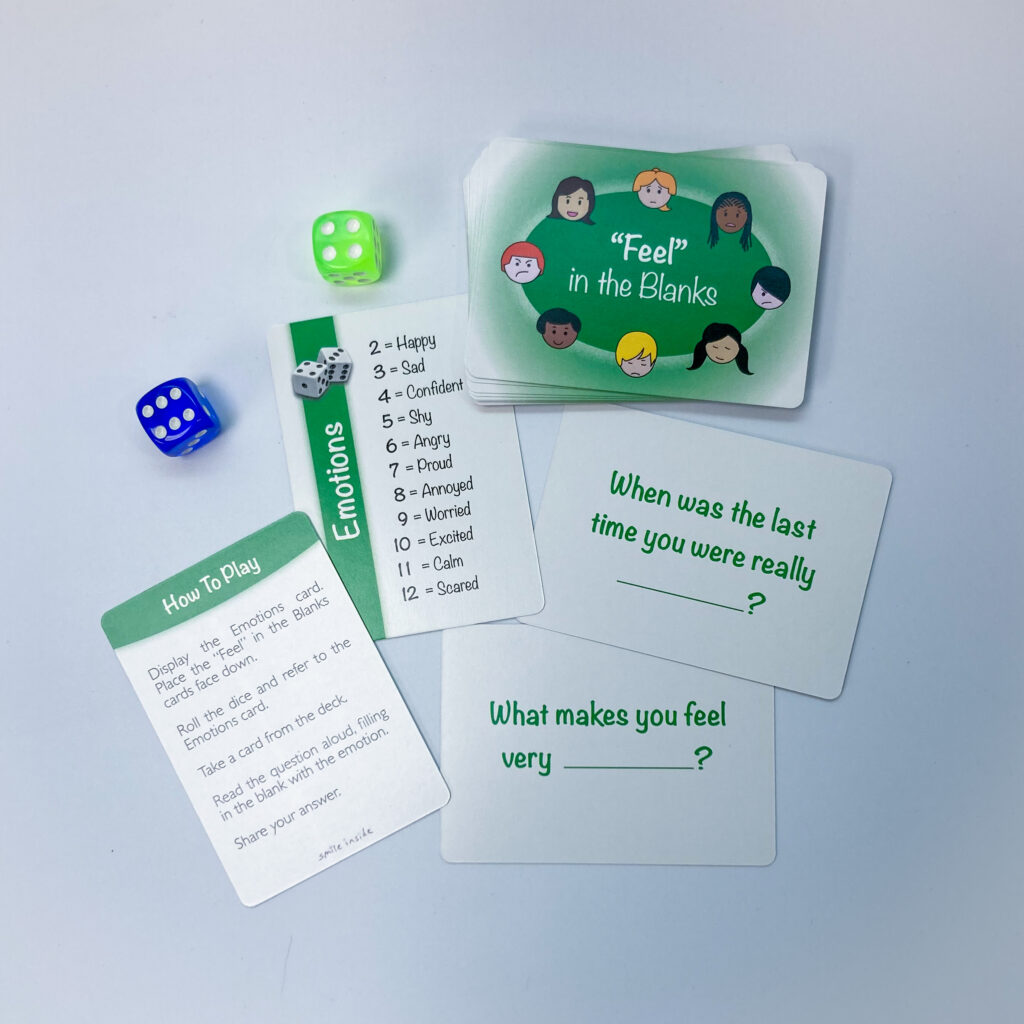 "Feel" in the Blanks® is a game that uses question cards, a list of emotions, and dice to facilitate social and emotional learning. It can be used during circle activities in the classroom or as an icebreaker during one-on-one or small group work. The product is great for developing emotional literacy during the primary years and is beneficial for creating conversations and connections all the way through adolescence.
Buyers will be asked to upload a tax exemption certificate. Once approved, you will be given a password to purchase at the wholesale price plus shipping costs.
Activity Handbooks – Set of 10 Books
$162.00
Activity Handbooks can be purchased in lots of 10 for 40% off.
You can choose books for ages 12-13, books for ages 14-15, or half of each age group.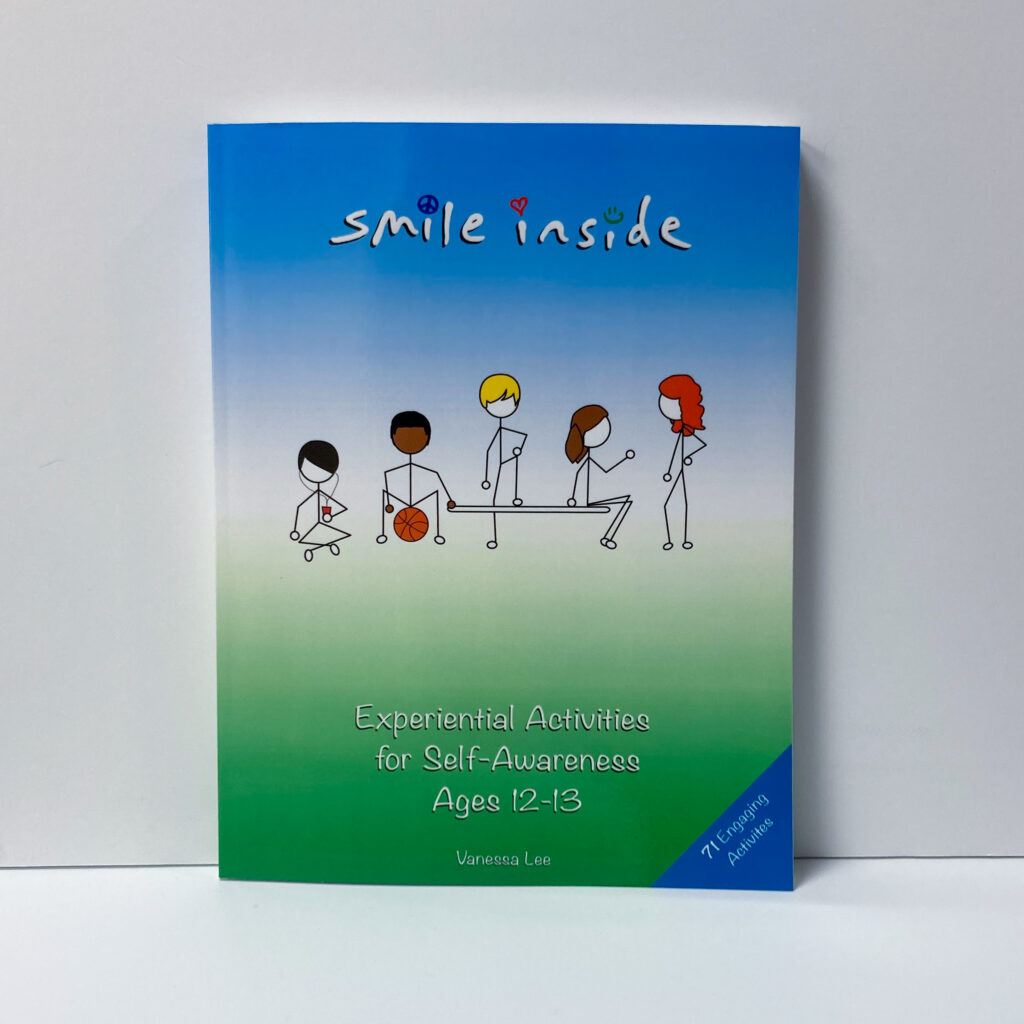 These essential activity handbooks are for anyone who works with youth. The social and emotional learning activities facilitate the development of self-awareness, resilience, responsibility, and more.
Smile Inside Ages 12-13 is recommended for middle school and Smile Inside Ages 14-15 is best when used during the identity formation years either while transitioning from 8th to 9th grade or as an elective course in 9th or 10th grade. However, all the activities can be modified to meet the needs of young people from 4th grade to 12th grade.
The following modules are explored in both books: Icebreakers, Focus & Listening, Empathy & Respect, Self-Talk, Self-Exploration, Emotions & Coping, Problem Solving & Decision Making, Goal Setting, Group Dynamics, Esprit de Corps through Service Learning, and Culmination.
Buyers will be asked to upload a tax exemption certificate. Once approved, you will be given a password to purchase at the wholesale price plus shipping costs.
Customer Reviews
"Feel" in the Blanks helped even my more reserved students open up about their emotions.
As a school counselor, I am always looking for new tools and resources to help students open up about their emotions and experiences. I have used "Feel" in the Blanks with individual students as well as in a group and it is a great way to start building connections and rapport with students. I've found that even the students who are more reserved will open up with the prompts in the game. It was wonderful to provide a comfortable way for students to open up and connect. I will definitely keep this activity in my office as a resource.
Audra L. Bulgrin
Elementary School Counselor
CODE Book is a valuable tool for teachers and school counselors to implement in the classroom.
Our school works with a mental health counseling agency that works with some individual students and their families to target specific behaviors and routines. I think this would be a great tool for them to use and teach the parents to use it as well.
Michelle Perrow
Elementary/Middle School Counselor
The Activity Handbooks are great for developing teens into compassionate human beings.
The Smile Inside Handbooks are great tools for teens to help them further develop their ability to be responsible, resilient, resourceful, and compassionate human beings who are able to stand up for themselves and others, and stand against injustice and cruelty.
Barbara Coloroso
International Bestseller and Author of The Bully, the Bullied, and the Bystander
The CODE Book helps with both increasing self-awareness as well as developing interpersonal skills.
The book is more than a useful set of experiential activities for self-awareness for children in their middle teens; it also helps to develop interpersonal skills and interpersonal relationships and broader life skills such as problem solving, decision making, group and team work. I find that the activities in this book are useful also for young adults and older adult students with minimal adjustments.
Dr. Hannelore Lorene Gottschalk
Co-author of Interpersonal Skills in Organizations
Other Offerings
We also offer products for kids/tweens/teens as well as programs and resources.